The voice of the students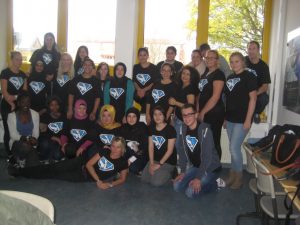 The SV can be seen as the voice of the students, because this function defines the SV. The Student Council takes the students' interests and represents them; in particular their concerns. They work together on an educational basis to promote their professional, cultural, sports, political and social interests. They can influence school decisions by participating in committees and by shaping self and school-selected tasks.

So, for example, our school has participated in the project "Day's work". This was one of many reasons that has launched the SV. The SV will endeavor to realize new school based improvements – of course it depends on the students' ideas. The students' opinions of the are the most important thing in the SV. Because they want to be their representative and listen to them.
The different class representatives are always chosen at the beginning of the school year, but everyone who is interested can work on a project. All class representatives then vote the school representative and his substitute. Furthermore they choose the"SV teachers", who assist them in their projects and their SV work.
Anyone who wants to be involved, and likes to make a difference, can be a member of SV, not only the class representative.
All students are always welcome to join welcome to SV.
It is important, because we can make a difference!
written by Zafer Yilmaz